Post by FMADieBrucke on Oct 19, 2010 15:02:05 GMT -5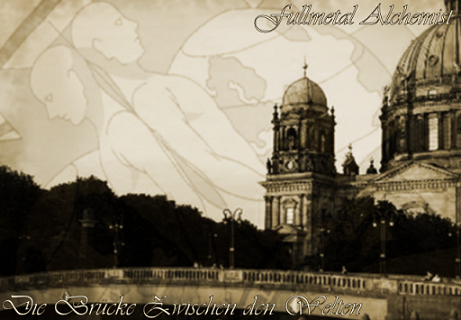 Die Brucke Zwischen Den Welten: A Post-Original Anime/Pre-C.o.S.
Roleplay
The Bridge Between the Worlds
There are two sides to almost everything, two sides to a coin, two sides to an argument, and two sides to one world.
For years, since the conclusion of the Ishballan rebellion, the country of Amestris had been on the brink of a revolution, and while the conclusion of this so-called revolution may not have ended as planned, it has turned the control of the country to the citizens and from the dictatorship of the late Fuhrer Bradley. Many lives were lost in the mutiny, but while the people mourn, the country must work with the military to rebuild itself.
Meanwhile, a promise of almost five years has been settled. Alphonse Elric has been returned to his body and what is left of his extended family. At eleven years old, his body hasn't changed a day since it was lost, and it seems neither has his mind as he is bereft of the memories of that five year journey. Neither does he have his brother.
After Alphonse gave his life and the power of the philosopher's stone to bring his brother back from death, Edward returns the favour with all that he has; only instead of having his life and soul dragged from him he is transported to 'the other side', missing his right arm, left leg, and his brother. In his parallel universe, the use of alchemy is impossible though the country he has landed himself in, Germany, seems to be recovering from the same kind of revolution and teetering on the edge of another. He doesn't know if he succeeded in bringing Alphonse back from the gate, he doesn't know if the country's revolution succeeded, and he doesn't know whether or not this is all a dream.
Two sides to the same coin: two brothers, searching desperately and unknowingly for the other, two countries in the process of reconstruction, what will happen when the door between the two is opened?
Only you can decide during
the bridge
.
We are a friendly roleplay, with a helpful staff for all kinds of roleplayers! There are currently plenty of canon characters and slots for OC's open, please take a look!

[center][url=http://www.diebrucke.proboards.com/index.cgi][img]http://i926.photobucket.com/albums/ad105/RemainToBreathe/dirbruckey.png[/img][/url][/center]

[font=papyrus][center][size=4][b]Die Brucke Zwischen Den Welten: A Post-Original Anime/Pre-C.o.S.[IMG]http://i87.photobucket.com/albums/k130/xraychrist/Fullmetal%20Alchemist/thfma1.gif[/IMG] Roleplay[/b][/size][/center][/font]

[font=Papyrus][center][size=2]The Bridge Between the Worlds [/size][/center][/font]

[font=century gothic] There are two sides to almost everything, two sides to a coin, two sides to an argument, and two sides to one world.

For years, since the conclusion of the Ishballan rebellion, the country of Amestris had been on the brink of a revolution, and while the conclusion of this so-called revolution may not have ended as planned, it has turned the control of the country to the citizens and from the dictatorship of the late Fuhrer Bradley. Many lives were lost in the mutiny, but while the people mourn, the country must work with the military to rebuild itself.

Meanwhile, a promise of almost five years has been settled. Alphonse Elric has been returned to his body and what is left of his extended family. At eleven years old, his body hasn't changed a day since it was lost, and it seems neither has his mind as he is bereft of the memories of that five year journey. Neither does he have his brother.

After Alphonse gave his life and the power of the philosopher's stone to bring his brother back from death, Edward returns the favour with all that he has; only instead of having his life and soul dragged from him he is transported to 'the other side', missing his right arm, left leg, and his brother. In his parallel universe, the use of alchemy is impossible though the country he has landed himself in, Germany, seems to be recovering from the same kind of revolution and teetering on the edge of another. He doesn't know if he succeeded in bringing Alphonse back from the gate, he doesn't know if the country's revolution succeeded, and he doesn't know whether or not this is all a dream.

Two sides to the same coin: two brothers, searching desperately and unknowingly for the other, two countries in the process of reconstruction, what will happen when the door between the two is opened?

Only you can decide during [i]the bridge[/i]. [/font]

[center][font=cambria] [size=2][b]We are a friendly roleplay, with a helpful staff for all kinds of roleplayers! There are currently plenty of canon characters and slots for OC's open, please take a look![/b][/size][/font][/center]


[center][url=http://www.diebrucke.proboards.com/index.cgi]Home[/url]
[url=http://www.diebrucke.proboards.com/index.cgi?board=rules&action=display&thread=1&page=1] Rules[/url]
[url=http://www.diebrucke.proboards.com/index.cgi?board=applications&action=display&thread=3]Character List[/url]
[url=http://www.diebrucke.proboards.com/index.cgi?board=applications&action=display&thread=4]Application Form[/url]
[url=http://www.diebrucke.proboards.com/index.cgi?board=advertise]Advertising[/url][/center]