Post by Ludwig Beilschmidt on Oct 2, 2012 17:57:42 GMT -5
L
UDWIG BEILSCHMIDT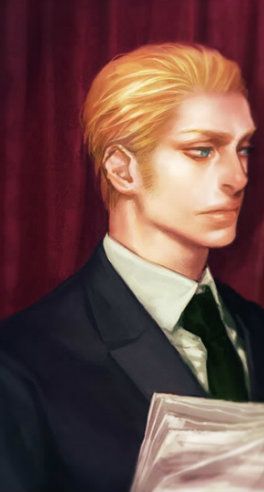 ° N-
ame
|| Ludwig Beilschmidt
° A-
liases
|| A variety of nicknames assigned by friends, relatives, and occasionally rivals.
° A-
ge
|| Twenty-six
° G-
ender
|| Male
° F-
amily
|| Gilbert Beilschmidt, older brother; Lili Walser, cousin
\-|-°-|-/
° E-
ye color
|| Sky blue
° H-
air color
|| Pale blond
° H-
eight
|| 6'
° W-
eight
|| 205 lbs.
° D-
efining features
|| None
° A-
dditional features
|| Ludwig is physically strong, and it shows: he has a muscular physique, with a broad chest and wide shoulders. While he's not particularly skinny or lithe, he's obviously in good shape, and his appearance lends itself towards power rather than weight.
Aside from when he is in his workshop, he's a very fastidious dresser, and while he has no qualms about wearing old or patched clothing, whatever he's wearing is always clean. Ludwig has no patience for the trappings of fashion, and wears clothes that are sharp but wholly functional. He prefers button-down shirts, suspenders, and some kind of pants, all in neutral or darker colors.
He keeps his blond hair cut short and ninety percent of the time it will be combed back away from his face and eyes. This hairstyle, his somewhat austere clothes, and his serious and generally unsmiling demeanor all combine to make Ludwig appear intimidating and severe, an assumption that Ludwig has never gone out of his way to correct.
\-|-°-|-/
° J-
ob
|| Inventor
° R-
eason for current profession
|| Curious and intelligent Ludwig has always had a way with machines, and working as an independent inventor was the only way he could control things exactly how he wanted to.
° D-
istrict
|| Noble residential
\-|-°-|-/
° P-
ersonality
||
First impressions are important, and the one Ludwig mainly gives off is that of a man who takes everything far too seriously. While he's by no means cold, he's unabashedly realistic, to the point where at times he will seem like a pessimist. A lifetime of building and rebuilding inventions has left him with a keen eye for seeing the variety and scope of ways something can (and will probably) go wrong. This sometimes makes him a downer in conversations, although it would be impossible to argue that Ludwig is ever unprepared. Still, he doesn't make for the best talking partner: he dislikes small talk, and speaks frankly, which can come across as rudeness.
A firm believer in doing something yourself if you want it done right, Ludwig is a complete workaholic, and frequently pushes himself past the boundaries of healthy behavior. Having grown up without much choice in his own life has left him with a need to be in control, a habit that is borderline obsessive when it comes to organization and cleanliness. Ludwig is always itching to take control of a situation that he can see spiraling towards chaos, and he can be bossy and commanding in these cases. While he can be quite critical of others at times, he's harshest on himself; at the same time, he puts the needs of others frequently above his own.
In all honesty, while he may be too serious for his own good, Ludwig isn't a cold-hearted person; unsmiling doesn't equate to unkind. He's loyal to a fault when it comes to his friends and family, and is protective of people and creatures incapable of defending themselves. Like any good inventor, he's creative, and he has a substantial imagination. Behind his stoic outer shell, even, he possesses a sense of humor and a warmth for those he cares about. If someone has seen Ludwig smile or laugh, it's certain that Ludwig trusts that person implicitly.
While Ludwig is undeniably ambitious, he considers himself above dirty tricks to get what he wants (of note, desperately hard work is not a dirty trick). And while he shouts or snaps at people, he rarely ever gets truly angry. When he does lose his temper, he can be absolutely vicious, and once he's calmed down, more often than not he apologizes. Ludwig has a certain amount of pride, but he's humble enough to know when to admit he's in the wrong. Like his brother, however, he can be stubborn when he wants to, and he has a difficult time accepting failure. Ludwig is not in the habit of self-pity, however, and no matter the calamity, he's usually back on his feet quickly enough.
° L-
ikes
||
• Order and cleanliness
• Working on his projects
• Beer
• Dogs and other fluffy animals
• Books of any variety
• Exercise
• The outdoors
• Learning new things
• Spending time with friends or family
• Cooking
° D-
islikes
||
• Dirt, mess, and chaos
• Wasting time
• Cowardice
• Thunderstorms
• Spicy foods
• Being interrupted
• Senseless destruction
• Bullies
• Humiliation
° F-
ears
||
• Being helpless in some way
• Nightmares
• Failure
• A life spent alone
° G-
oals
||
• Invent something truly world-changing
• Protect his family
• Help to end the conflict in the city
\-|-°-|-/
° H-
istory
||
Born eight years after his elder brother, Ludwig was a physically perfect child: blond-haired, blue-eyed, and completely free of any health problems. His parents, ignoring Gilbert's potential because of his genetic shortcomings, quickly turned their focus to their younger son. And Ludwig unintentionally proved a ready vessel for this: an unusually serious child, he loved books and had a natural curiosity for the world around him, while at the same time he disliked idleness. But although he was lavished with presents and treats, Ludwig didn't grow up spoiled. He was all too happy to share his gifts with his elder brother, who he looked up to as a hero, or with his relatives. When Gilbert was forced out of the house, Ludwig was sad to see him go, and wrote him frequent letters.
Without Gilbert in the house, however, the beam of focus on Ludwig narrowed and intensified. From morning until dusk, his schedule was kept full: there would be school, of course, and extra tutors for specific subjects; visits to other noble households and families for the purpose of social climbing; trips into the countryside or to the seaside, always with some ulterior motive; and constant measuring of progress. With so much to do, Ludwig had little free time for himself, and occasionally stayed up late into the night just to do what he wanted for a change. As a teenager, he developed a fierce rebellious streak and began acting out against what was ordered of him. The crackdown and punishments he received as a result of his rule-breaking were so unfathomably harsh that they both killed the brief attitude problem Ludwig had developed and instilled a great fear of reprisal in him. From that point on, he respected the rules to the utmost, and toed the line.
Because they had been in such control of his life, the death of his parents from illness, one right after the other, shocked Ludwig rather badly. It took him a few weeks to pull himself together and accept that Gilbert was now in charge of the family, but with Gilbert away, he was obliged to take control of his own affairs for the first time. Having developed a keen interest in science and mechanics, when he reached the right age Ludwig enrolled in more advanced schooling, and set up a workshop for himself near the river in Granor so he'd always have a source of water. He spent his days attending lectures, and his evenings working on various projects; he always had a unique way of seeing machines, and fixed damaged or old technology as a way to bring in money although, being from a noble family, he hardly needed it.
When his cousin's parents were killed by a Ruthian bomb, Ludwig hurried to her side to give her support and comfort. When the issue of custody arose (Lili still being a minor), Ludwig fought tooth and nail to keep his cousin out under the shadow of her much-disliked aunt. In the end, he was successful, and Lili moved into the Beilschmidt family home. Since that time, Ludwig has attempted to remain in the city, just in case something goes drastically wrong and his cousin needs his help. While he can understand the complaints of the Ruthians, because of the attack on his aunt and uncle, he intensely dislikes the terrorist tactics they employ.
That being said, he isn't so fond of the Draconians either; he has no doubt that, had his parents lived longer, he would have been forced into the bureaucratic lifestyle, and that makes him cringe. Ludwig dislikes the fighting and the violence, but is reluctant to get involved in politics: his specialty is building machines, not governments. That being said, there isn't a day that goes by that Ludwig doesn't learn something. His upbringing left him relatively sheltered and naive, and it's going to take him a while to absorb the knowledge he's missed out on.
\-|-°-|-/
° R-
oleplay example
||
With a short sigh and a few sleepy blinks, Ludwig woke, and the dream he'd been having vanished like smoke in the wind. For a moment, he didn't recognize his surroundings, and panic surged in his chest, but a split-second later, realization hit him and he sat up from his drafting table with a yawn. He'd been falling asleep in his workshop more and more often, which anyone else would have taken as a problem. But Ludwig had been working hard on a new project, and he felt so close to a breakthrough that he couldn't be bothered to go home at a reasonable hour. The clock nearby read two-fifteen, and a glance outside the window revealed to Ludwig that the sun hadn't yet risen. He'd fallen asleep around midnight, then.
Climbing out of his chair with a stretch, he walked over to a machine the size of a writing desk, a solid creation of tubes and rivets and tanks and gauges. The damn engine design had been bothering him for weeks, and as his eyes landed on a heavy spanner hanging nearby, Ludwig was seized with a temptation just to hit the stupid thing until it worked properly. Instead, he reined back his frustrated energy and began going over the design one more, running the calculations and figures in his head. The steam pressure shouldn't have been a problem; he'd more than accounted for that with the length and thickness of the pipes, and there were numerous outlet valves. So why wasn't it working as efficiently as it should have been?
Having been reinvigorated by the short nap he'd taken, Ludwig marched back to his desk, erased the smudges his face had left on the schematics pinned there, and picked up a pencil. He'd try to figure this problem out for another hour, and then he'd go home and get some rest. He was supposed to meet his cousin for lunch the next day, and she would notice the dark circles under his eyes if he didn't catch just a little more sleep. And the last thing he wanted was anybody worrying about him: Ludwig hated feeling like a burden to his friends, even in their thoughts, and besides that, they might try to stop him from working, and he was
this
close to perfecting this machine. Still... Ludwig looked longly over at his creation, then shook his head. Nope. One more hour, that was all. Having decided, he began scratching out numbers, and quickly grew absorbed in his work.
\-|-°-|-/
° U-
sername
|| West
° A-
ge
|| Twenty-five
° T-
ime zone
|| GMT +1
°W-
hat is the secret phrase from the Rules?
|| Intervention - Arcade Fire