Post by Mattie Williams on Oct 4, 2011 0:37:36 GMT -5
M
ATHIEU WILLIAMS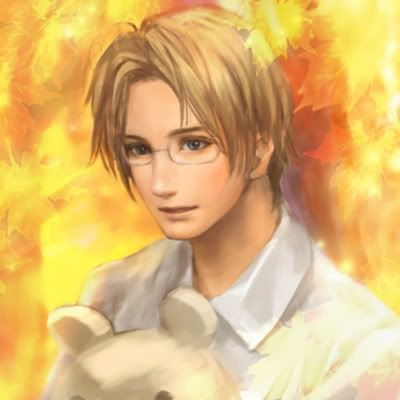 ° N-
ame
|| Mathieu Williams
° A-
liases
|| Matt, Mattie, Matthew
° A-
ge
|| 19
° G-
ender
|| Male
° F-
amily
|| Father (Franklin B. Williams), dead. Step-Father ( John H. Jones), missing. Mother (Charlotte Williams-Jones), dead. Younger half brother (Alfred F. Jones), unknown whereabouts.
\-|-°-|-/
° E-
ye color
|| Violet blue
° H-
air color
|| Dark blonde, wavy, cut long.
° H-
eight
|| 5'9.6"
° W-
eight
|| 162 pounds
° D-
efining features
|| Mattie has a curl that sticks out in front of his face. It's as long as his hair, and has a distinct loop in the middle. He doesn't like it if you touch it. He also wears glasses, as he can't see without them. They are square rimmed, but with soft corners.
° A-
dditional features
|| Mathieu generally wears comfortable, nice clothes – if they're a little worn. On his days off, he tends to dress in a cotton shirt with a vest, and nice, workable trousers. His uniform for work consists of a white shirt, black vest, and black pants.
\-|-°-|-/
° J-
ob
|| Owner, chef, and part-time server of Mathieu's Restaurant. He's also a part-time repairman. He can generally fix things that no one else can, but it's a talent he downplays and prefers not to talk about.
° R-
eason for current profession
|| Mattie had to find a way to support himself and his mother when she took ill. She had always praised his cooking skills, oftentimes letting him cook meals for them. He decided that he would open a small restaurant – and still works there to this day.
° D-
istrict
|| Mattie lives in the South Residential District, in his childhood home. There are too many memories there for him to give it up. His restaurant is in the trade district.
\-|-°-|-/
° P-
ersonality
||
Mathieu is quiet, almost painfully so. He tends to avoid situations where he'd have to raise his voice; a yell from him is something akin to a normal tone of voice for anyone else. His normal speaking tone is near a loud whisper; most everything he says is polite and unassuming. It's his habit to listen and go along with what others say more than he offers his own opinion, as he's afraid of seeming too forward and bossy. The only time this doesn't always apply is in the workings of his restaurant. There, he is boss – because he wouldn't want someone to make a bad decision and ruin his good name.
Outside of work, Mathieu keeps to himself. He is shy, so don't expect to see him socializing much at bars or other restaurants or shops. Instead, expect to see him hurry through the crowds to return home, where he'll spend his evenings with his bear. He's been called slightly crazy before; but that's only because instead of talking to himself, he'll talk to the bear and carry on conversations with it - even though it is just a plush. He says it helps him concentrate.
Really, he's an all-around unassuming type of guy. He's the kind that blends in easily in a crowd; perhaps that's the reason he prefers to avoid them. People will often overlook him, even if he's trying to draw attention to himself. They apologize later, but years of this happening has not helped his confidence or self-image. Even so, he'd call himself content.
° L-
ikes
||
• Cooking, especially pancakes.
• Maple. He uses maple syrup in whatever he feasibly can.
• Polar bears. He's not entirely sure why, so don't ask. Also, don't ask about the stuffed polar bear animal he carries with him, ok? It's a security thing.
• Wintertime. He's happiest when there's snow on the ground… there are more happy memories then.
° D-
islikes
||
• When people bring up his family. He lost them all in ways he wasn't prepared to – if he would have ever been prepared to lose them at all.
• When people make fun of his bear plush. It's a security thing, ok?
• When people ignore him. Something about his quiet demeanor just lets him slip under the radar, sometimes. He doesn't like it.
• Fighting. It's even to the point that raising his voice consists of a sentence barely louder than the one before.
° F-
ears
||
• Losing Mathieu's Restaurant.
• Losing his family home.
• Becoming close to someone again – and losing them too.
° G-
oals
||
• To make a name for himself.
• To expand Mathieu's Restaurant into a chain.
• To finally come to terms with losing his family.
• To break out of his shell.
\-|-°-|-/
° H-
istory
||
As he was always told, Maman and Dad met when they were young. Dad was an inventor, often employed by the military to make improvements on their ships and weaponry and so forth. Maman ended up ducking into his shop to escape a rainstorm one day; and as she always said, it was love at first sight. They got married, and Mattie came along soon after. However, this idyllic life didn't last. Papa got sick, and soon succumbed to the illness, leaving Maman and Mattie alone. Eventually, Maman found love again, marrying the man Mattie knew as "Dad," as he'd never call anyone Papa again. This man had been left a widower, with a young son about Mattie's age.
The two attended school, they followed John around, they played games with each other and with other children, they grew and began to apprentice with their father. Al loved it; Mattie, not so much. He was good at it, that was sure – and often, he had to fix Alfred's inventions that went awry while his brother worked on something else. There was just something about the way Alfred asked (or demanded or begged or what have you) that Mathieu couldn't resist.
And then everything went wrong. They'd gotten a commission from the military to improve upon a ship's design – and Dad had, of course, taken it. The maiden voyage, Dad went along. Then the news came… the ship had gone down – attacked by pirates. They said there were no survivors. Maman collapsed that day; her world was shattered. How could the military let it happen? They were supposed to stop the pirates, not fall to them. Mathieu himself was inconsolable. Alfred left, just like that, to go searching for answers. Mattie still misses him, and feels as though part of him is missing. And yet, part of him never, never will give up hope. After all – they were brothers. He would have felt
something
, if something had happened to Al, right?
But as the years passed, and Maman spiraled down into a deeper depression – and subsequent illness – Mathieu gave up. If Alfred were going to come home, he would have come home by now. If Alfred was even still alive. They'd had a funeral; that was when Maman had given him his bear. The bear stayed with him, and still stays with him to this day. He'll carry it everywhere he goes, even if he is nineteen and so therefore, likely too old for a stuffed bear. With some of the money given by the military, Maman and Mathieu bought a small shop in the trade district; she then left it to him to work. Not knowing what else to call it, he called it Mattie's restaurant. Maman died when Mathieu was seventeen, in the spring. He buried her near the gravestones for Dad and Papa; what else could he do? So many losses have made him quieter than before, and more reserved. He wasn't sure that he could become close to anyone else… everyone had left him to date.
\-|-°-|-/
° R-
oleplay example
||
"It's just another day, Kumajiro." Mathieu spoke, his voice barely louder than a whisper. The stuffed bear in his arms made no audible reply, but he continued to talk to it as though it had. "Oh, I know. It's Maman's birthday… and we'll go see her later, but I've got to get to Mattie's. The morning rush will be the same as usual…" He shook his head. "I can't ignore the business because I want to go see her. We'll get her nice flowers though, to make up for it."
When he reached the restaurant, he opened the door, then tucked the key back into his pocket. He flipped the sign over, signifying that the restaurant was open, then moved through the small shop opening the shades to let in the light. There were a few small tables, none meant to seat more than four, and a small counter, where those looking for a quick bite could sit. He didn't serve alcohol here; he was too afraid of the fights that could break out if anyone got particularly drunk. He wasn't delusional… he knew he wasn't strong enough or loud enough to stop a brawl. And he didn't want to get involved in one, either.
Making his way back into the kitchen, he opened the shades there too, conserving the gas lights until he had to use them that evening, then started the fire. Kumajiro watched him from the counter, silent about this part of the process as ever. Personally, Mathieu thought he was scared of the fire, but he'd never ask Kumajiro that. And then the bell over the door jingled, signaling that someone had come in. Time to get to work. Ten to one, it would be pancakes.
\-|-°-|-/
° U-
sername
|| Maplesyruppancakes
° A-
ge
|| 23
° T-
ime zone
|| GMT -5
°W-
hat is the secret phrase from the Rules?
|| Never Alone (Eeyore's Lullaby), by Tyler Collins