Post by eire on Mar 11, 2012 13:54:36 GMT -5
A
oife O'Neil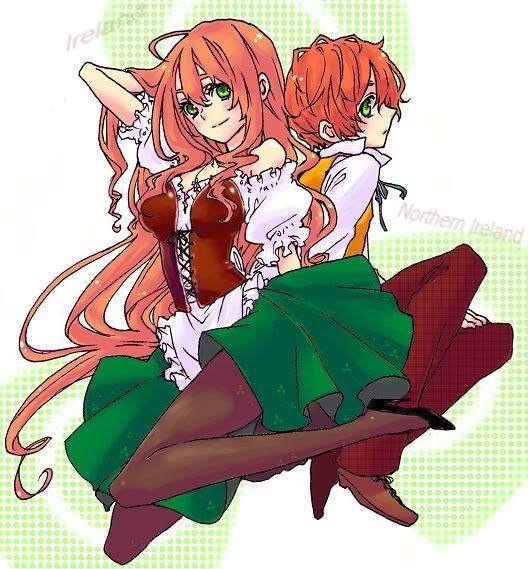 (The figure on the left is how she usually looks and the figure on the right is when she is cross-dressing)
° N-
ame
|| Aoife O'Neil
° A-
liases
|| Eva Kirkland (birth name), "Conor" (when she's pretending to be a boy).
° A-
ge
|| 24
° G-
ender
|| Female
° F-
amily
|| All have been forgotten (see history), but she does have a mother and father (deceased), three half brothers (including Arthur Kirkland) and an identical twin brother, Liam. The only "family" she remembers is her guardian who raised her, Father O'Neil.
\-|-°-|-/
° E-
ye color
|| Bright emerald green
° H-
air color
|| Naturally red
° H-
eight
|| 164.4 cm (5 ft 4 1⁄2 in)
° W-
eight
|| 140 lb
° D-
efining features
|| Aoife has incredibly long wavy hair that falls past her waist. Above her brilliant green eyes are a pair of slightly thick, naturally black eyebrows, a feature that runs in her family. But these eyebrows seem to compliment her looks.
° A-
dditional features
|| She is quite petite, average height and slim. Do not be deceived by her small frame, she may not be huge but she has enough strength to rugby tackle anybody. Her ivory skin is very pale (so much so that it is incredibly noticeable when she blushes) and dotted with freckles. Her chest isn't huge, in fact she's quite flat-chested. She usually wears green dresses or a green skirt with a white blouse and brown corset. However, her flat chest means she can be mistaken for a boy, so sometimes she'll dress in men's clothing and hide her hair under a flat cap.
\-|-°-|-/
° J-
ob
|| Pirate
° R-
eason for current profession
|| See history
° D-
istrict
|| Wherever the ship goes
\-|-°-|-/
° P-
ersonality
||
When you first meet the Hibernian woman, she comes across as incredibly friendly. Aoife is a cheerful, bright woman who always does her best to look on the bright side of life. Her happy-go-lucky attitude and bubbly personality, along with the constant smile she wears, makes her appear to be an incredibly jolly character. She is sociable and loves to be with people, and seems to enjoy spreading her optimism. She is most lively when at the pub, and often ends up totally drunk. Not that it matters, her care-free attitude means she doesn't worry about the consequences of her action. Aoife insists she is lucky, even though she's had a pretty up and down past and not exactly the best time when it comes to finance. When it comes to work, Aoife is careless. She can be clumsy and sometimes a bit of an airhead. Work is never a priority for her, which has been proven by her awful money managing skills. She can be quite meddlesome; enjoying sticking her nose into other people's business every now and then. This often gets her into quite a lot of trouble. Aoife has a bad mouth; a trait which either ran in the family or she picked up from spending so much time in the company of young men. But she was brought up in a way that she hardly uses it, only when she can't contain her anger any longer.
However, she's not all smiles and sunshine. Like the stereotype of redheads, Aoife is a fiery and feisty woman who knows how to stand her own ground and has a short temper. This redhead has a slightly dark side to her. When really angered, she becomes ruthless and will not care if she hurts anyone mentally or physically. She's been through plenty of fights in her past, and has a temper to prove it. You do not want to piss her off, for when she gets really angry, she can scare pretty much anyone with a glare. Luckily that side of her is one that comes out rarely.
Aoife has a rebellious streak and enjoys going against the rules every now and then. She is a rough, tough woman who does not like to be messed around with, and will certainly hold her own in a fight. Her time in the countryside has made her strong and independent. She is also extremely proud and stubborn, and hates to be proven wrong. Her opinion is important to her, and she won't let anybody change it easily. She will always be ready to get into a fight/brawl with anyone who tells her she's wrong or anyone who undermines her. Her pride for women in particular is a sensitive topic to discuss with Aoife, and saying anything negative about females will result in a black eye. That or, when she's tired or drunk, she'll end up in tears. The worse time to irritate or insult her is in the morning, as that is when she's most grumpy and least forgiving.
Despite this rather tom-boyish side to her, Aoife does have some girly traits. She is incredibly beautiful, something she seems oblivious to. Whenever she is complimented, she comes over all shy and embarrassed as attention is not something she is used to. She can also be a bit of a flirt with attractive people, and will become rather giggly around someone she fancies.
Aoife was brought up to respect others and be polite, a trait which she does show for the majority of the time. Although she would rather be independent, she is loyal and a good friend to have by your side.
° L-
ikes
||
•The Ruthians: She is a great supporter of the rebels and might try to assist them in anyway she can.
•Music: Aoife grew up surrounded by music. She has a beautiful singing voice and also plays the harp and fiddle.
•Alcohol: Her favourite drink is a rare black beer called "Guinness" that can only be found in the country she grew up in.
•Hibernia: Aoife longs to go back to the country she was raised in and be independent and free.
° D-
islikes
||
•Dealing with money: Aoife is terrible with money and often used to end up getting into serious debt.
•Her eyebrows: They cause a great deal of embarrassment to her, especially when people point them out.
•Sexism: Aoife has strong feminist ideology and believes that women are just as strong as men.
•The Draconians: She really despises the way they rule over Atheros.
° F-
ears
||
•Snakes- Aoife suffers from Ophidiophobia after a bad experience with snakes when she was younger. They're the one thing that really terrifies her.
•Never finding out who she really is.
•Being stuck in Atheros for the rest of her life and not seeing her homeland again.
° G-
oals
||
•To find out the truth about her past.
•To help the Ruthians and destroy the Draconians
•(After all that's been done) To return to Hibernia
\-|-°-|-/
° H-
istory
||
Aoife O'Neil was born Eva Kirkland, the only daughter of the Kirkland family. She was originally from Granor, Atheros. Not much is known about her childhood, because on her fourth birthday, she was separated from her family and was lost. Aoife has no memories before the day she was lost; it is unsure why, but presumed she hurt her head and got amnesia. The only thing she could remember was the name Eva. After a few days of aimlessly wandering the streets, she was found by an old priest from a far away land called Hibernia- a rather primitive country where agriculture was one of the main source of the economy. The priest, Father (Patrick) O'Neil, felt sympathy for the lost child and took her back with him to Hibernia.
Aoife picked up the thick Hibernian accent after only a few months of living there, and her name was changed from Eva to the Gaelic form- Aoife (pronounced Ee-feh). She took Father O'Neil's surname and ended up living with him. Aoife grew up loving him as though he was her father, and actually thought she was his daughter. She was raised in the convent and grew up as a devout Catholic. However, she often snuck out of the convent to spend most of her time out in the village where the convent was located, playing rugby with the boys, sometimes helping them on their farms and occasionally hunting with a few of the older boys. She was an incredibly talented archer and rugby player, and ended up spending so much time with the young men she was considered "one of the lads". The other priests from the monastery were well aware of the fact Father O'Neil's ward often "escaped" to go muck around with the boys, and it was heavily frowned apon by them. But Father O'Neil himself did not see any problems in letting Aoife be free. His views were rather modern compared to the others, and he did not want to force his ward into a life of the Church if she didn't want it. Even though she was given this freedom, Aoife still remained loyal to her beliefs, but was thankful her guardian would turn a blind eye to how she spent her time outside of the convent. Aoife had an incredibly carefree and happy life in Hibernia, and considered herself a true Hibernian.
That all changed on her eighteenth birthday, when Father O'Neil decided she needed to know the truth about where she came from. He told Aoife how he had found her in Granor when she was young and how he had taken her back to Hibernia. Hurt and confused that the life she had known turned out to be a lie, Aoife packed her things that night and ran away from her home. Her plan was to return to Atheros to find her real family and discover the truth about her past.
When Aoife returned to Atheros, she started street performing (singing) to earn some money. Life wasn't as easy going as it was back in Hibernia; some days she hardly got any money and Aoife was struggling to pay the rent for the grotty little apartment she was staying in. What seemed to make her whole experience of the country even more unbearable was that she'd been there for two years and still hadn't come any closer to finding her family. Plus, she was beginning to grow a hateful passion for the Draconians and found the way of life they had created for the people of Atheros a nightmare.
Her luck only seemed to get worse when one night, after finishing her singing for the day, she overheard the end of a strange conversation about smuggling something into the city. It didn't take long for Aoife to realise that the people speaking were pirates. In her shock, she ended up giving herself away from her hiding place and getting cornered by the pirates. Next thing she knew, she was whisked off and ended up being held prisoner on their ship.
She was stuck there for a few months, hating every single second of it when suddenly, one day, a fight broke out on the ship. After managing to escape from the cabin she'd been locked in, Aoife discovered that the pirates had attacked another pirate ship, but it appeared that the other crew were fighting back. Seeing a chance of escape, Aoife began fighting alongside the attacking crew, against those who had imprisoned her. When the fighting had finally stopped, the crew from the other ship found Aoife but they didn't know what to do with her. So they decided to bring her back over to their ship; ending up in the redhead getting "kidnapped" by pirates a second time. Aoife was taken to the Captain of the other ship, Arthur Kirkland, who seemed determined not to let her stay on the ship. By now, Aoife had decided she wasn't going to be mucked around any longer, and that if she was going to be on all these pirate ships she might as well stay. Plus, she thought life would be pretty exciting. So after making a deal with the captain that she would do all the jobs (such as cleaning) that the others were reluctant to do, he would let her stay. Grudgingly, he accepted, and so Aoife became a proper pirate.
She is currently still on that ship, staying loyal to the captain even if she might argue back and pick fights with him. For some reason, she can't help but feel a strange connection to Kirkland... she just can't put her finger on it...
\-|-°-|-/
° R-
oleplay example
|| There were times when Aoife O'Neil would close her eyes, and instantly she'd be back home. A warm breeze would softly blow around her, running through her red locks and sending them gracefully flying around her. The soft sun would be gently beating down on the lush, emerald green field she was standing in, all alone. It was so peaceful that she felt if she would lie down she would instantly fall asleep. Pure and utter bliss. The breeze made the grass beneath her bare feet shudder with a peaceful sigh, causing the tiny wet dew drops to scatter around and make a few land on her toes. A smile parting on her lips, Aoife slowly cocked her head back and breathed in deeply, absorbing the fresh scent of the morning. But, no matter how much she dreamed, no matter how much she longed for Hibernia, Aoife knew that as soon as she opened her eyes her paradise would crumble away from her again. And sadly, she knew she couldn't dream all day. No matter how tempting it was sometimes.
With a heavy sigh, Aoife reluctantly opened her heavy eyelids, rubbing her dull green eyes wearily. Aoife was not home, far from it. She was imprisoned on a pirate ship. She'd been stuck, trapped like a rat, in this tiny cabin for God knows how long. Time was just blurring together now, hours turning into days, days turning into weeks. She'd spent most of the time pacing up and down or pounding loudly on the bolted door, screaming to be let out. There was no way they could just leave her in here... was there?
Aoife found it hard to suppress a whimper as she curled up in a foetus position on the floor. Who was she kidding? Those men were brutes; they didn't care if some prisoner lived or died. The redhead was starting to become fully aware of her circumstances now. It was very unlikely she'd ever see her homeland again, now.
The woman slowly pulled herself up off the floor and kneeled up, silently praying for a miracle to happen. She must have some good fortune left in her life, some to get her out of this predicament she'd landed herself in.
A sudden battle cry outside the cabin made the woman jolt with surprise. Snapping her head in the direction of the noise, she pulled herself up and ran over to the door. Something was going on outside on deck. Something violent, from all the screams she could hear. Each shrill, piercing shriek made Aoife wince slightly. It sounded awful!
Then, an idea came to her mind. She could escape whilst those thugs were distracted! They'd be so caught up in whatever was going on out there, they wouldn't notice her... she hoped.
Narrowing her eyes at the door as she took a step back, a sudden burst of energy growing in her body, Aoife prepared herself to do whatever she could to open the door. In one swift movement, she threw her body weight against the door, hissing with pain when her shoulder made contact. But she wasn't going to let that put her off! She needed to escape. Another burst of power welled up inside her, and she quickly threw herself against the door again. Constantly battling against the pain, the redhead stubbornly refused to stop trying to get out. She was not going down easily without a fight.
\-|-°-|-/
° U-
sername
|| Eire
° A-
ge
|| 15
° T-
ime zone
|| GMT+ 1 hour
°W-
hat is the secret phrase from the Rules?
|| Leia by Megurine Luka (Yes, I'm a Vocaloid fan...)