Post by denmark on Mar 3, 2011 16:24:26 GMT -5
!M AGNUS FENRIRSON¡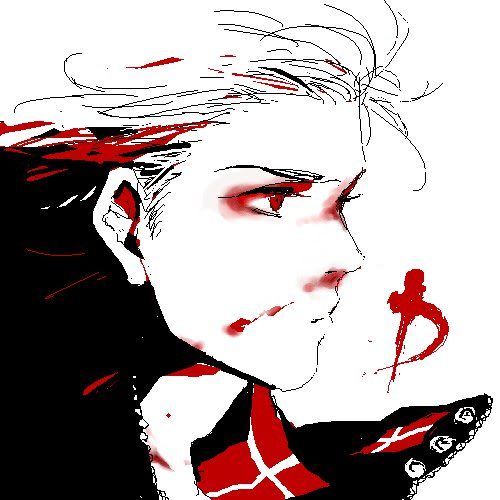 ]
° N-
ame
|| Magnus Fenrirson
° A-
liases
|| Magnus by family, Fenrirson before he became captain, Fenrir after became the captain.
° A-
ge
|| 26
° G-
ender
|| Male
° F-
amily
|| Considers Norge, Sverige, Iceland as his brothers, Finland and Sealand- extended family.
° S-
ight
|| No
\-|-°-|-/
° E-
ye color
|| Steel blue
° H-
air color
|| Bright golden blond
° H-
eight
|| 187 cm
° W-
eight
|| 78 kg
° S-
kin tone
|| Fair
° D-
efining features
|| A tattoo of the Fenrir wolf between his shoulder blades. Innumerable battle scars on his chest, back and arms.
° A-
dditional features
|| Broad shoulders, messy blond hair that never obeys the rough treatment by Magnus's hands or the amount of hair products smeared into it, Nikolai cuts his hair so it's easier for him to handle in the mornings.
\-|-°-|-/
° J-
ob
|| Barman
° R-
ank
|| bartender, server, security guard- whatever he can do.
° R-
eason for current profession
|| One of those things that just happens, a natural progression. Magnus decided to settle down and take care of his new family that he grew to love more than his previous crew members. He saved Nikolai one day when he was walking by foot to Zequea and ended up getting a job at the bar.
° H-
ome town
|| Town of Zequea
° B-
irth town
|| Unknown, wasn't born on solid ground.
\-|-°-|-/
° P-
ersonality
|| The Dane is known to be a loud and sometimes obnoxious creature. He's adamant and often gets on his brothers nerves because of this trait. Although he can be a pain in the ass from time to time, he's still admirably loyal to his closest. Loyalty is something he was taught from childhood- both from his parents and the crew he grew up with, but when someone takes advantage of his loyalty, he makes them pay for it, but most of the time he is too ignorant to notice such betrayal. Even though Magnus is a large man, customers at the bar still pick a fight with him whenever they get drunk, for various reasons (mostly because Magnus likes to demean everyone he disapproves of). However, at the end of the day, the costumers end up leaving the bar more intimidated by the man than when they arrived.
Magnus enjoys to do the hard work around in the bar, so Island and Finland won't have to do it, but another reason for the drudgery is to impress Norge, but the Norwegian disregards the Dane and his efforts. That doesn't stop him from trying though, Magnus tends to ignore the harsh treatment from Norge.
Magnus is fond of screaming obscene profanities whenever something goes wrong. Norge often stops this after a few seconds with his broom in Magnus's mouth, as a punishment for swearing in front of Island.
Magnus has a drinking problem, but doesn't admit it- instead he claims it's the right way for men to drink. He also gets nostalgic from time to time (Ragnarok), but tries his best to conceal this with jokes and tomfoolery. He has difficulties sharing these feelings with Norge or the others, in fear of sounding like a wuss even though they're all very aware of his longing for Ragnarok and being a pirate, but they don't mention it. The only one who does mention it and who really understands him is Berwald. Magnus rarely cries in front of others and when he does, it's always because there is something in his eye.
The man also has a short fuse and there are very few people who can cool the man down, but he usually calms himself down after he blows up and/or hurts someone or something.
° L-
ikes
||
• Cute things, like Island when he's asleep
• His new family
• Drinking in peace
• Fighting the drunkards hitting on his brothers
• Sverige (it's complicated)
° D-
islikes
||
• Sverige (it's complicated)
• Sour stuff
• The military
•
•
° F-
ears
||
• Losing his new family
• Becoming sick/weak. He wants to be strong for his brothers.
• Losing a fight to Sverige
° L-
esser known facts
||
• Forgetting his roots.
• His mother was a pirate and got killed by the hands of a military soldier
° G-
oals
||
• Protecting his family
• Get Ragnarok back if possible
\-|-°-|-/
° H-
istory
||
Magnus was born on the infamous pirateship called Ragnarok some time in September. No one noted the date of his birth, because pirates find birthdays to be utterly pointless. His father, Fenrir, was a vicious pirate who terrorized the seas for decades like his father and grandfather before him. Fenrir married a girl who grew up on the ship with him, a girl who spoke and fought like a boy. The Ragnarok crew both admired and feared the couple, but one crew member by the name of Floke betrayed their trust. Floke was nothing until he met Fenrir. He was picked on for being spineless and feeble. He was always left behind by everyone and labeled as a snake. Fenrir encountered Floke when his father decided to take a small vacation in Hulmara city. He immediately pitied Floke and decided to take him in on his father's ship. Floke had always admired Fenrir like a big brother and glorified him, but he was no longer in the spotlight when Fenrir and Cecilie became a couple. One cold day when they were in battle with the military, Floke decided to ignore Cecilie's cries for help and walk away when a soldier held her trapped underneath him with his gun pointed at her temple. Floke turned around and heard the man pull the trigger. After her death, Floke became Fenrir's rock and tried to comfort him as a brother, friend and even as a substitute wife.
Magnus was left without a mother and was practically raised by the rest of the crew while Fenrir became weaker and manipulated by Floke. The whole situation they were in sickened Magnus and as he grew up to become more attentive to his surroundings and especially aware of whatever Floke did, he found things he didn't want to find. Hefigured out of Floke's jealousy and issues with his mother, something that grew stronger even after her death. Fenrir became more reckless with years in battles and tactics, which resulted in a messy bloodbath when Magnus was around 17. Fenrir, who had decided to battle while drunk got killed by another pirate. Everyone mourned Fenrir's death and suddenly, Magnus became captain. However, he became a more respected man than adored when he made the perfect revenge mission on the man who killed his father and executed the plan better than any pirate could dream of- simultaneously stealing the best jewelry and attaining another ship in his father's name.
Everything Magnus and his forefathers had built up as pirates was ruined in a couple of years because of internal disagreements. Floke yearned for Magnus's approval of him, wanted Magnus to realize that he was the only "real" relative Magnus had. In his last year as a captain of Ragnarok, when everything was still going strong, Magnus kept digging for the reason to why and how his mother died. He hunted down the soldier who had now become a respectable man in the military and questioned/tortured him until the truth got out. He identified the man who had just simply walked away and let him shoot a bullet through her head. When Floke was confronted by Magnus, he blatantly denied it and Magnus killed him without letting him explain himself, finally understanding things for the first time in his life, finally getting everything he thought about Floke confirmed.
While he was busy torturing his mother's murderer and slowly killing Floke, their ship had been tailed by another pirate ship and invaded. When Magnus finally got up to see what the commotion was, he witnessed hanging bodies dangling in the air, slashed up bodies on the floor and the last people standing were losing the fight, being outnumbered by people and weapons. They thought they had killed the Dane after stabbing the man and threw him in the water (they were not in the sky like they should have been, because of the so-called captain's side activities in the basement). Magnus woke up in a cold place washed up on the shore, almost bleeding out and hungry, without a ship or crew and utterly depressed, even though he should have been happy he had gotten his revenge.
The Dane walked a long distance without speaking a word to anyone or eating anything at all, but was approached by a small boy who was frantic and yelling about his big brother being in a pinch and that Magnus absolutely had to help him. The Dane went over to see white hands clasping hard to the edge of the cliff and Magnus dragged him up and placed him on safe grounds. Never had he seen such beauty or grace, mistaking the boy for a young girl for a second- until the boy spoke with a dark voice.
They saw the man was clearly wounded and took him into their house to take care of the Dane until he felt well enough to work for them. Magnus gladly accepted the work so he could think of other things than that catastrophic night. He met the Swede Berwald and instantly disliked him. They were complete opposites and it made Magnus so angry that Berwald never acknowledged him as a "brother" even though he tried really hard to be polite and including. It pissed him off that Berwald never spoke and his stiff upper lip always looked better smeared with blood. For some reason Berwald always managed to get the sadistic side out of the Dane. Alas, he has to get along with him because of their new family.
\-|-°-|-/
° R-
oleplay example
||
The Dane raised his eyes to the axes on the wall above the several bottles of alcohol ignoring the merry sound of flutes and guitars in the background and smiles crookedly. Damn, how he missed being what he was born to do...but living here, with his brothers, wasn't so bad. His mind wandered to the first time he met Nikolai, the first time he helped Egg chop wood the proper way, the first time he ended up in an official brawl with Berwald, the first time he had gotten his ass handed to him by Berwald, first time he had gotten the military barging in their bar, the first time he had seen Nikolai talk his way out of a pinch with a stern face and adorable and utterly irresistible voice. His train of thought was interrupted by a loud man trying to crawl over the desk to get some free booze "Oi, order and buy yer shit first!" he yells and kicks the drunk man back to his place with the back of his boot placed hard on his face, pushing him back.
"Damn animals" he smirks when he realizes a lady with too much cleavage smiling at him, obviously impressed by his heroic action- saving the booze. "Want anythin', sweetheart?" he asks with that smug smile and leans over the counter eyeing her plump breasts pushed up, almost falling out of her dress. She orders a girlie drink and the Dane looks around to check if the coast was clear for a little free groping. As he leans in closer to murmur a couple of encouraging words to the lovely lady, he feels something hard poking him on his back, the Dane turns around in an amazingly slow pace to find Nikolai with his usual deadpan face pointing that usual detestable broom at him, warning him without any words. He leans back again with his hands in the air and that usual innocent smile plastered to his face as to say that he didn't do anything, yet. He sighs when he watches the very intoxicated lady leave with another sleazy guy. "Damn it" he mutters and goes to serve someone else.
\-|-°-|-/
° U-
sername
|| Storebror
° A-
ge
|| 22
° T-
ime zone
|| UTC/GMT +1 hour